Well, around 4 PM yesterday we brought home our little girl, Pip.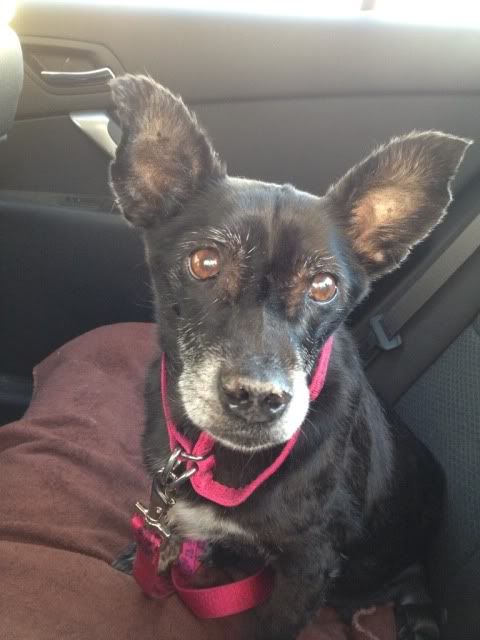 She both barked & tried nipping our fingers at first... (to which her foster Mom replied, "Oh she's never done that before!" .... Riiiiight.)
It took a while to get her into our car, she kept trying to bite us. But once in the car, she sat comfortably next to me.
Her, with her bad breath & herbal smelling shampoo.
The first thing 007 did when Pip came inside our House- was walk directly up to her and sniff her face. Pip growled.
Moneypenny stayed at a safe distance but followed Pip around.
Pip has had about 7 "accidents" in the house, so far.
She isn't a fan of toys or dry food. But she loves wet food.
... She's stopped nipping at us and she lets us pet her with ease now. She's not growling at the cats *as* much and she sleeps comfortably through the night on an old comforter.
I'll admit, this has been much harder than I thought it would be.
I've already had two small breakdowns over it. (Thank goodness for phone calls with my Mom!)
I don't want to let her down- she was found as a stray in NYC & also rescued from a high-kill shelter. I feel like she deserves to spend the rest of her life in a firelight home, completely with cuddles & treats.
Wish us luck as we continue to on this journey. :)