A few weeks back Hubs & I were wracking our brains while hiking, trying to come up with little ways to save some money. Among several ideas, we came up with making our own laundry detergent.
I had been contemplating a recipe that I had seen floating around Pinterest- and if I'm being honest... The concoction looked awesome. It had minimal ingredients and seemed easy enough to make.
The perfect moment arrived for us to budget in the supplies ($28.27) & try out the detergent.
My primary concerns with making my own detergent was the idea that *I* had made it. Ha!
I just felt like how could I possibly make something that would work better, let alone just as well as, store-bought?
As I thought about it- I was like, "Man! Why didn't we do this before??" The recipe makes sense!
After using it three times so far- we really enjoy it! The clothes are definitely clean- and while they're isn't an explosive scent, it's either just plain smell free- or there is the faint trace of Purex Crystals.
Below I've listed the supplies & steps to make your own detergent.
1 (4 lb 12 oz) Box of Borax
1
(3 lb 7 oz)
B
ox of Arm & Hammer Super Washing Soda
1 (3 lb) Container of OxyClean (Optional...but why not add it?!)
2 (14.1 oz) Bars of Zote Laundry Soap. (You can also use Fels Naptha)
1 (4 lb) Box of Arm &Hammer Baking Soda
You need to use a cheese grater or food processor for the Bar Soap.
Literally, you just layer all of the ingredients and stir it up as you go, to make sure the ingredients are spread evenly. You also need a good size bucket for mixing- I recommend using one with a lid for extra detergent storage.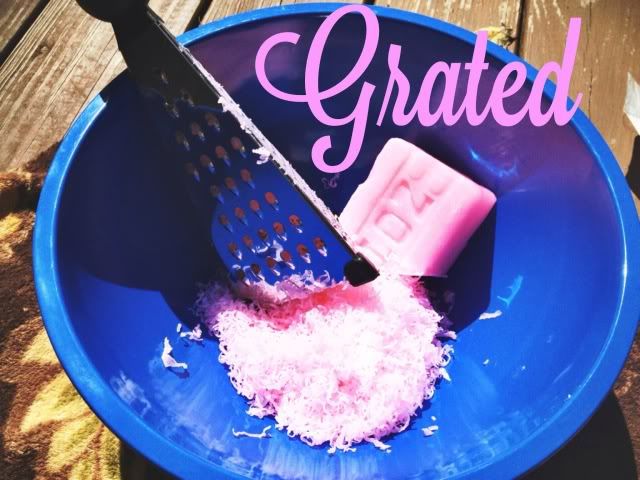 I put some of the detergent back into the Purex Crystals container & the OxyClean Container. (I still had tons of detergent left over!) If you use the Purex Crystals Container, you can use the little round lid to measure out the amount of detergent you need. (The middle line) Or 1-2 Tablespoons in general. Put the detergent directly into the drum.
We have a HE Washer & haven't had any clogging problems so far.
We've heard it can last up to 7 Months or So, I'll do an update post once I know for sure!